The Underground Man: Bad vibrations (Single, 2013)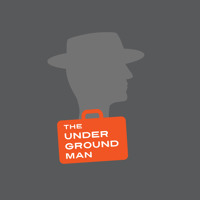 The Underground Man es el alias bajo el que se oculta Greg Adams, un músico y compositor neoyorquino conocido anteriormente por ser la voz principal de una banda local llamada Swimclub. Su música se mueve en ese remanso algo pacífico que nos proporciona el Pop de reminiscencias Folk y fisionomía acústica.
En cualquier caso, Bad vibrations es un precioso sencillo que puedes descargar desde el enlace que os dejo. Bonito tema. Greg ha publicado también este año un Ep llamado Knows me better, que también podéis descargaros.
Aún no hay comentarios.
Jangle-Friends

Labels

Mags

Management

The JangleBox Mixtape, LoFi-Dj

Mixtapes

The JangleBox en Facebook

The JangleBox en Twitter

The JangleBox en MySpace

Look for in The JangleBox:

Previously in The JangleBox

Jangle-Comments

Top-Jangle

Jangle-Visits

Feed The Jangle

RSS - Entradas
The JangleBox, 10th. Anniversary

Bands/Grupos