Groom: Brothers and Sisters (Popical Island, 2013)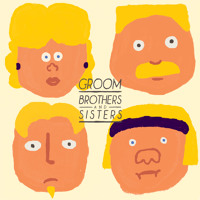 Groom son una banda de Dublin que además son responsables del sello independiente Popical Island, encargado de publicar su material en formatos como las cassettes de colores.
Acaban de editar Brothers and Sisters, un Ep en el que los irlandeses sacan a la luz su repertorio de Pop feliz y alambicado, con numerosos detalles tanto del sonido más clásico (Brothers and sisters), como del Pop más barroco y sesentero (Wet thursday). Fishing 1983 y Love death and bandaged heads son dos cortes más inclinados al lado LoFi del asunto.
Mike nos ha cedido gentilmente uno de los temas para compartirlo con todos vosotros. Por si os quedáis con ganas, os dejo también un enlace directo para poder disfrutar de su último disco hasta la fecha: Marriage, del año 2010.
_______________________
"As co-founders of the Popical Island collective,Dublin band Groom and its moonlighting members have been responsible for creating, and disseminating, some of the finer sounds to grace our ears over the last few years. The band has been quiet since 2010's relationship-ruminating 'Marriage', with side projects a-plenty filling the interim up until this new four-track EP. 'Brothers & Sisters' sees all four players take a direct hands-on approach, with each track produced by a different band member.
Thematically, the EP seems a natural progression from 'Marriage', while having a more aesthetic kinship with the lower-fi Lie Ins – one of those side-projects we mentioned –  whose members make up one half of Groom. Themes of family and memory, of mundanity and mortality, fill both sides of this offering of affecting, exuberant power pop.
Brothers and Sisters opens, sauntering along at a stately pace with a high register, almost-fragile vocal and heartstring-tugging chord changes. "Bare knees and ash trees" and "…sandwiches and annuals" hark to childhood memories, in a song bookended by loss. Midway through the low-register solo, an understated snare roll provides a launchpad from which the guitar pulls away and spirals gently skyward. We leave then, on an eloquent image – "…and they fold up her clothing" – a heartbreaker, just to ease us in.
Frenetic guitars etching out a trebly, angular riff and a rough'n'tumble syncopated drum pattern characterise Fishing, 1984. Mixed on cassette 4-track, it may be the EP's least sophisticated means of capture, yet it's the warmest sounding for it. Wet Thursday's relentlessly joyous melody and infectious, ever-ascending verse vocal mark it out for greatness. Four deadened cymbal taps herald a sudden clarity in the sound as Stevens sings "If death is the answer/Then hand me the cancer/ At least I'll look good/ In my cheap box of wood" before a playful carousel of a breakdown slows the tempo briefly. Only briefly mind.
Love, Death and Bandaged Heads is the EP's sign-off, with a psychedelic intro and yet another memorable melody camouflaging the barbs – "I know we're gone gone gone/ I know I'm no Maud Gonne/ But get real neither is she/ And that's not poetry" Groom make this all seem easy. 'Brothers and Sisters' is a collection of simple yet beguiling, playful yet dark songs; theirs is a kind of grim reality whose edge is tempered by disarming honesty, tongue-in-cheek humour, and the overarching feeling that everything is going to be alright" (GoldenPlec)
Aún no hay comentarios.
Jangle-Friends

Labels

Mags

Management

The JangleBox Mixtape, LoFi-Dj

Mixtapes

The JangleBox en Facebook

The JangleBox en Twitter

The JangleBox en MySpace

Look for in The JangleBox:

Previously in The JangleBox

Jangle-Comments

Top-Jangle

Jangle-Visits

Feed The Jangle

RSS - Entradas
The JangleBox, 10th. Anniversary

Bands/Grupos