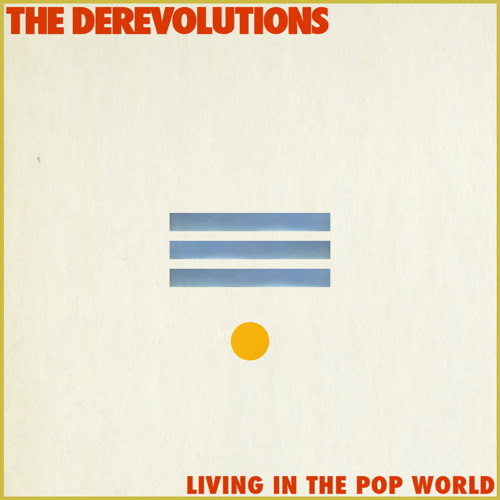 ¿Os acordáis de The Fantasies, nuestro grupo fantasma favorito? En TJB caímos rendidos a su sonido hace un par de años con una serie de singles que en su momento prometieron que iban a ser cada uno de un estilo distinto. En parte lo consiguieron, aunque para nuestra sorpresa, el responsable de esta entidad fantasma, ha decidido hacer borrar del mapa cualquier vestigio sonoro, incluida Bandcamp, para crear un nuevo proyecto, llamado The Derevolutions, que acaba de publicar su Ep de debut, este Living in the Pop world, Vol.1.
Pero no penséis que su obscurantismo iba a cambiar. Es de los pocos personajes que aún con el tiempo han conseguido mantener en secreto su verdadera identidad (y eso que lo hemos intentado vía mail…).
Su sonido quizás sí que se haya visto algo afectado por un ligero cambio. El material que vas a encontrar en Living in the Pop world, Vol.1 es algo más ligero que en otras ocasiones. Se abre y se cierra, de hecho con dos temas que son absolutamente festivos: Living in the not world (que me recuerda mucho a algún tema de los Superfurry Animals, incluido algún juego de palabras con su título); y Yell it out, un divertido tema construido con samplers y con riffs adictivos, de esos perfectos para pinchar en una sala de baile.
Pero lo mejor está enmedio del Ep: 2012 derevolution, el que creo que es el mejor corte de los siete, un perfecto tema Pop de estribillo contagioso y guitarras acústicas punzantes.
Dissapoint your teacher, otro de los puntos álgidos del Ep, colocado estratégicamente enmedio de todo el conjunto, otro perfecto corte bailable con influencias del Electro.
Mandy, en el que se vuelve al Pop de tintes acústicos y letras pseudo sentimentales, se hace acompañar de Waste our love away y para cerrar este pequeño conjunto de temas de Highschool, la melosa Whats with the future.
Un Ep interesante en el que The Derevolutions nos muestran la cara más amable de su música. Preparan una continuación para este mismo verano, pero conociendo los antecedentes… ¿Tendrá mucho que ver con el primer volumen?
Facebook / Descarga legal gratuita-Free legal download
Como sabéis, soy un gran amante de (casi) todo lo que se cocina en Escocia. Tienen una habilidad especial para facturar bellas canciones Pop que desde siempre me ha embriagado.
Yakuri Cable son un combo de Pop de tintes sonoros a medias entre el C86 y el  Electropop y unas evidentes relaciones vocales con The Pastels o BMX Bandits (todos escoceses). Pero qué queréis que os diga: me gustan este tipo de temas que considero atemporales, y cortes como Stars fall down, Line of sight, Adventures in 1986 reunen ese tipo de componentes.
El nuevo sencillo de Father Sculptor se llama Blackshirt, y es un tema de Pop épico de esos de rasgarse las vestiduras. Sí, muy a lo Morrisey. Supongo que los chicos estarán hasta el último pelo de que les recuerden sus semejanzas-influencias.
Jangle-Friends

Labels

Mags

Management

The JangleBox Mixtape, LoFi-Dj

Mixtapes

The JangleBox en Facebook

The JangleBox en Twitter

The JangleBox en MySpace

Look for in The JangleBox:

Previously in The JangleBox

Jangle-Comments

Top-Jangle

Jangle-Visits

Feed The Jangle

RSS - Entradas
The JangleBox, 10th. Anniversary

Bands/Grupos