Banana Beach: Mobile homes (Single, 2013)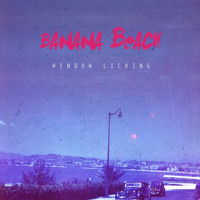 Puro Pop escandinavo, con sonidos limpios, ritmos muy marcados y ese típico tono épico en las voces de muchos de sus solistas. Están en la órbita de Birds Will Sing for You Enterprises.
"Banana Beach is an experimental pop quintet out of Stockholm, Sweden, just done independently recording their debut EP titled 'Window Licking' in an office on an abandoned floor inside a factory complex, situated in the industrial southern suburbs of the Swedish capital. Bananas and beaches not being very present around these parts, the yearning for change and happiness can certainly be heard through every track on the EP with the title deriving from a French expression for window shopping.
From back to front the band consists of a dynamic drumming-duo, where Niklas Eriksson maneuvers the old-school beat-machine and Mikael Goldberg the electrical one, creating a wide spectrum of rhythm led to shore by bass-guitarist Alexander Buultjens, who together with rhythm-guitarist Peter Berg also gives vocal support to the lead-singer and guitarist Björn Kaplan.
The band's first single, Mobile Homes, is planned to be dropped this June and following the release, a number of performances in Stockholm" (Press)
Facebook / Birds Will Sing for You
Aún no hay comentarios.
Jangle-Friends

Labels

Mags

Management

The JangleBox Mixtape, LoFi-Dj

Mixtapes

The JangleBox en Facebook

The JangleBox en Twitter

The JangleBox en MySpace

Look for in The JangleBox:

Previously in The JangleBox

Jangle-Comments

Top-Jangle

Jangle-Visits

Feed The Jangle

RSS - Entradas
The JangleBox, 10th. Anniversary

Bands/Grupos