¿Os gusta el Garaje? ¿Tenéis una banda? Howlin Banana es vuestro sello. Una discográfica francesa especializada en este tipo de sonidos.
Los Dos Hermanos son uno de sus últimos lanzamientos, y aunque suenan mucho a Thee Oh Sees, tienen un encanto más que especial, lo que les ha llevado a registrar su álbum de debut, este Bourbon, blood and seafoods, un disco de doce tema en los que el pedal de distorsión está casi siempre al máximo, tremolos y reverbs subidas, ritmos acelerados y auténtica energía garajero-surfera.
En realidad Los Dos Hermanos no son hermanos, aunque sí que son un dúo, y como comprobaréis en uno de los vídeos que acompaño, intensidad y energía desde luego no les falta.
Puedes escuchar su disco en el Bandcamp y adquirirlo desde la web del sello.
_________________________
"Los Dos Hermanos are a garage  duo, formed  by  Billy Dorados on white Stratocaster guitar and Carole Tweedlady on drums, and their sound is simply different then what you're used to hear.  
The duo manages to create summery  atmospheres through echoey vocals, surf music stylings, catchy guitar lines and pop melodies, with punk attitude and raw energy on top, all mixed into one explosive and unique formula. Though influenced by both 60′s legends and new acts such as Thee Oh Sees or Ty Segall, the duo designed their very own vision of the genre,  an exotic brand of garage rock  filled with unexpected historical references, due to their shared passion for History, hence song titles such as « Robespierre » or « Louis XVI » and the revolution-inspired artwork by Victor Marco.
This 12 tracks debut-LP delivers nothing but hit songs , such as the frantic « Set Up », the earworm « Waste Your Time » or the  sunshiny mid-tempo « Blue Night in Summer », all of which are designed to make crowds dance till the early hours as summer rolls around. Dig in and enjoy the ride" (Press)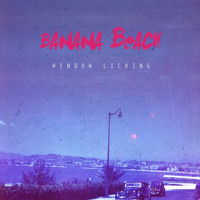 Puro Pop escandinavo, con sonidos limpios, ritmos muy marcados y ese típico tono épico en las voces de muchos de sus solistas. Están en la órbita de Birds Will Sing for You Enterprises.
"Banana Beach is an experimental pop quintet out of Stockholm, Sweden, just done independently recording their debut EP titled 'Window Licking' in an office on an abandoned floor inside a factory complex, situated in the industrial southern suburbs of the Swedish capital. Bananas and beaches not being very present around these parts, the yearning for change and happiness can certainly be heard through every track on the EP with the title deriving from a French expression for window shopping.
From back to front the band consists of a dynamic drumming-duo, where Niklas Eriksson maneuvers the old-school beat-machine and Mikael Goldberg the electrical one, creating a wide spectrum of rhythm led to shore by bass-guitarist Alexander Buultjens, who together with rhythm-guitarist Peter Berg also gives vocal support to the lead-singer and guitarist Björn Kaplan.
The band's first single, Mobile Homes, is planned to be dropped this June and following the release, a number of performances in Stockholm" (Press)
Facebook / Birds Will Sing for You
Jangle-Friends

Labels

Mags

Management

The JangleBox Mixtape, LoFi-Dj

Mixtapes

The JangleBox en Facebook

The JangleBox en Twitter

The JangleBox en MySpace

Look for in The JangleBox:

Previously in The JangleBox

Jangle-Comments

Top-Jangle

Jangle-Visits

Feed The Jangle

RSS - Entradas
The JangleBox, 10th. Anniversary

Bands/Grupos