Andrew Leahey: Summer leaves (Ep, 2013)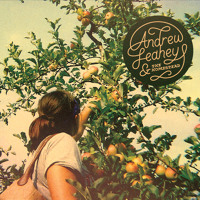 Andrew Leahey representa, como bien indica su hoja de prensa, el nuevo sonido de la Americana más o menos actualizado a los tiempos que corren. Letras personales, sonidos lo suficientemente claros y limpios como para entrar sin demasiadas complicaciones y una ejecución impecable. El resto lo ponen las canciones: correctos ejercicios de fino estilo que nunca desentonan y además poseen unos estribillos fácilmente asimilables.
El resultado final: un disco apto para todos los públicos, sin ningún tipo de estridencias y quizás demasiado amable. Una dosis quizás demasiado elevada de azúcar.
_________________________
"Mixed by David Barbe (Drive-By Truckers, REM, Son Volt), and co-produced by Leahey, it's the sound of the modern South: music for city highways and country lanes, for pop fans and roots rockers, for the heart as well as the heartland. 
American Songwriter says: "Summer Sleeves is a sonic tribute to the sounds of the south and Nashville – Virginia-native Leahey's adopted hometown – and blends influences from the likes of Whiskeytown, Tom Petty and Bob Dylan along with rock roots, twangy steel guitar and thoughtful lyrics.
The Nashville-based Leahey recorded the songs with the Homestead, a group of childhood friends and Virginia-based musicians who added organ, harmonized guitar riffs, pedal steel, and three-part harmonies to the mix" (Press)
Aún no hay comentarios.
Jangle-Friends

Labels

Mags

Management

The JangleBox Mixtape, LoFi-Dj

Mixtapes

The JangleBox en Facebook

The JangleBox en Twitter

The JangleBox en MySpace

Look for in The JangleBox:

Previously in The JangleBox

Jangle-Comments

Top-Jangle

Jangle-Visits

Feed The Jangle

RSS - Entradas
The JangleBox, 10th. Anniversary

Bands/Grupos