Queenfish & Other Tales: Dive in (Single, 2013)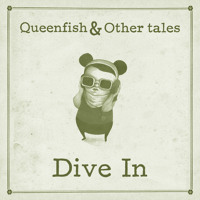 Ewa Wikström es una trotamundos de la música. Ha formado bandas, participado en otras en tareas multiintrumentistas y es ahora, cuando a la edad de treinta añitos ha decidido formar un proyecto con el que debuta: Queenfish & Other Tales. Su álbum de debut se llamará Landing, y su lanzamiento está previsto para el próximo mes de Mayo.
Su música, como ella misma defiende, es "Indie-Fusion". Un viaje más que abierto a la música de formación más clásica, al Indie más relajado, a la música cinemática…
Este Dive in es su sencillo de presentación, y lo puedes descargar directamente desde el enlace de Soundcloud.
"Queenfish & Other tales album "Landing" is that journey to the core of one self. The tales of her instruments and vocals leads the listener to confront the moment in its beauty and crudity, asking you to wake up, to break out and to look inside. When asked what genre this album falls into, Ewa herself calls it Indie-fusion. In truth, the strong lyrics together with a multi-layer instrumental performance evokes a new experience on its own that quickly makes the listener forget the boundary of genre.
Ewa has played with several bands since that first grungeband, preforming a as drummer, trumpeter, accordionist and lead singer. Her music has moved her around Sweden and Europe, through pop, jazz, world, rock and cinematic music. Early in 2010 she was encouraged to record something of her own, and so she did! The EP "Beginning of Times" came to life in a Barcelona recording studio. With an extended version of that EP, Ewa toured Europe the summer of 2010 and received great acclaim from both audience and press.
"Landing" is Queenfish & Other tales first full-length album. It is the sum-up of two years of creative expressions influenced by touring, traveling through Argentina, turning 30 and moving to a small cabin in the north of Sweden. These ingredients came together and brought Ewa to finding herself on this musical path, at this time, in this place and has given her debut album its name. The album was recorded in a faraway studio in Västerbotten" (Press)
Aún no hay comentarios.
Jangle-Friends

Labels

Mags

Management

The JangleBox Mixtape, LoFi-Dj

Mixtapes

The JangleBox en Facebook

The JangleBox en Twitter

The JangleBox en MySpace

Look for in The JangleBox:

Previously in The JangleBox

Jangle-Comments

Top-Jangle

Jangle-Visits

Feed The Jangle

RSS - Entradas
The JangleBox, 10th. Anniversary

Bands/Grupos