Gravitysays_i: The Figures Of Enormous Grey and The Patterns Of Fraud (2011)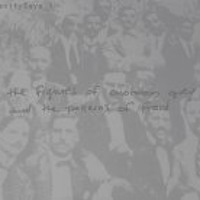 Reconozco (como siempre he dicho) que en determinados sonidos no soy nada ducho ni experto (música electrónica, música progresiva, free-jazz, rock progresivo, new age…)
El hecho es que hay bandas como Gravitysays_i que me envían su material amablemente y me sabe mal no prestarles la atención debida a su sonido. Me veo incapaz de al menos no responder como se merece a alguien que se molesta en enviarme su música al mail.
¿Qué quiero decir con esta pequeña parrafada? Pues bueno, es más que nada una justificación para poder hablar de esta banda griega que publicó su último trabajo en 2011, este The figures of enormous grey and the patterns of fraud, un disco que se mueve entre ese tipo de sonidos (rock progresivo, experimentación, sonidos mediterráneos…).
Os dejo con algunas palabras aparecidas en su Facebook para quien desee conocer algo más sobre ellos:
"Gravitysays_i was formed in March of 2003 by Manos Paterakis and Nikos Retsos in Piraeus. Their aim was to accompany their aspirations and their living with melody, in a country that devours its children, as well as to explore the quality of difference, as the two founding members perceive the notion.
Their first appearance in discography came with the album entitled "the roughest sea" (2007), released on Sirius, the label that was founded by Manos Hatzidakis, the famous Greek composer. It is comprised by 9 compositions inspired by egotism, vanity and the isolation of modern man. It is a conceptual album characterized by consecutive flow, where the electronic element meets traditional instrumentation, while minimalistic forms follow the general pop-rock spirit.
Their new album entitled "The Figures of Enormous Grey and The Patterns of Fraud" (Restless Wind, 2011) is different, with regard to its theme, as it reexamines social values, institutions and morality as an extension of individual, as well as collective conscience. This time, their sound follows a more traditional / Mediterranean audio vocabulary, while, at the same time, the dark, atmospheric elements become even more apparent"
Aún no hay comentarios.
Jangle-Friends

Labels

Mags

Management

The JangleBox Mixtape, LoFi-Dj

Mixtapes

The JangleBox en Facebook

The JangleBox en Twitter

The JangleBox en MySpace

Look for in The JangleBox:

Previously in The JangleBox

Jangle-Comments

Top-Jangle

Jangle-Visits

Feed The Jangle

RSS - Entradas
The JangleBox, 10th. Anniversary

Bands/Grupos